Hours From Now Calculator
As the name of the calculator implies, use this Hours From Now Calculator to figure out the exact future time from the given hours. Say you want to know the exact time and date 16 hours from now, input this value in the calculator and it will calculate the time. It has settings as well you can configure - using minutes or custom time picks.
How to Use the Hours From Now Calculator
The calculator above only solves this question, what is 36 hours from now? This gives you the exact time, date and number of days from the given future hour. That's the main purpose of the calculator. Of course, a current time or time now is displayed as well on the topmost part.
You can just tinker around the calculator and the settings but the main thing is that you only need to add the hours which there's a given example (36) in there. Nonetheless, here's a step by step guide: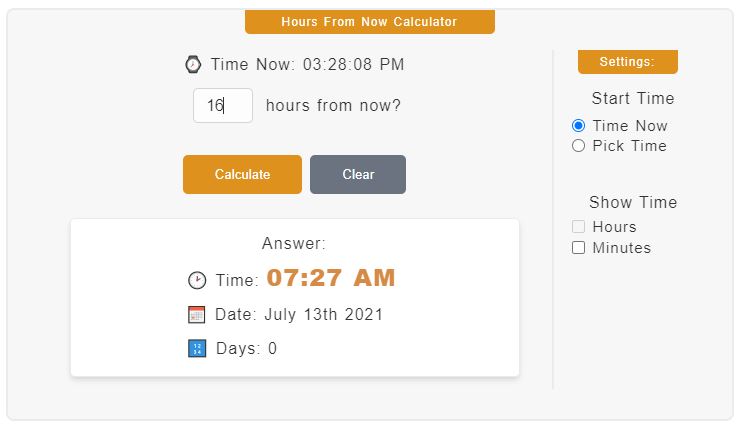 Step 1. Enter the hours. So, this is hours from now calculator which means you need to add the future hours in the hours input field.
Step 2. After that, just click on the Calculate button and the answer will be displayed below it - Time, Date and Days.
That's just as easy as it gets but there are options as well. In the default, you can only add hours. However, you can enter minutes by enabling it in the ⚙️ Settings. Mark check the ☑️ Minutes option and you'll be able to add minutes, uncheck it to turn it off.
Another option is, instead of using now or the current time as a reference, you can enter manually a start time. Like if you want to figure out - 72 hours from 7:00 AM today, you can enable manual adding of time.
To do that, on the ⚙️ Settings, click on the Pick Time option and it will change the now to a time input. You can select a time using it. If you want to change back to using now as reference, click on the Time Now option.
Hours From Now Table
For a quick find, here's a table for 1 up to 100 hours from now. This uses the current local time and date. The table contains the exact hour in the future, date as well as the number of days.
Hours
From Now
Date and Time
1 hours from now


2 hours from now


3 hours from now


4 hours from now


5 hours from now


6 hours from now


7 hours from now


8 hours from now


9 hours from now


10 hours from now


11 hours from now


12 hours from now


13 hours from now


14 hours from now


15 hours from now


16 hours from now


17 hours from now


18 hours from now


19 hours from now


20 hours from now


21 hours from now


22 hours from now


23 hours from now


24 hours from now


25 hours from now


26 hours from now


27 hours from now


28 hours from now


29 hours from now


30 hours from now


31 hours from now


32 hours from now


33 hours from now


34 hours from now


35 hours from now


36 hours from now


37 hours from now


38 hours from now


39 hours from now


40 hours from now


41 hours from now


42 hours from now


43 hours from now


44 hours from now


45 hours from now


46 hours from now


47 hours from now


48 hours from now


49 hours from now


50 hours from now


Hours
Fom Now
Date and Time
51 hours from now


52 hours from now


53 hours from now


54 hours from now


55 hours from now


56 hours from now


57 hours from now


58 hours from now


59 hours from now


60 hours from now


61 hours from now


62 hours from now


63 hours from now


64 hours from now


65 hours from now


66 hours from now


67 hours from now


68 hours from now


69 hours from now


70 hours from now


71 hours from now


72 hours from now


73 hours from now


74 hours from now


75 hours from now


76 hours from now


77 hours from now


78 hours from now


79 hours from now


80 hours from now


81 hours from now


82 hours from now


83 hours from now


84 hours from now


85 hours from now


86 hours from now


87 hours from now


88 hours from now


89 hours from now


90 hours from now


91 hours from now


92 hours from now


93 hours from now


94 hours from now


95 hours from now


96 hours from now


97 hours from now


98 hours from now


99 hours from now


100 hours from now


See also: ⌚ Hours Ago Calculator